Choosing the right accent wall color is no small task. Whether your goal is to brighten up a space, add an element of surprise, or showcase your favorite piece of furniture or artwork, accent walls are a powerful tool that should be wielded with caution.
In the interest of taking the guesswork out of giving your space a quick and easy refresh, we rounded up our favorite no-fail shades that can be easily styled to suit any aesthetic.
1. Cobalt Blue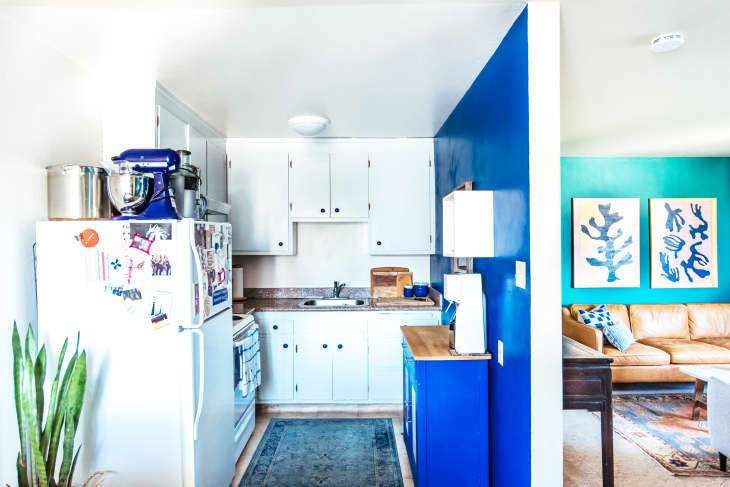 In her book "A Field Guide to Getting Lost,", Rebecca Solnit writes that "the world is blue at its edges and in its depths." Maybe that's why we are so captivated by the cobalt accent wall in this Berkeley apartment 's kitchen. It lends a crisp and cheery feel to any space, whether your vibe is classic Cape Cod, mod Yves Klein or beachy boho.
2. Black
As far as we're concerned, a dark accent wall is the interior design equivalent of a little black dress. It's an easy way to add dimension to a space in a classic and understated way. We especially love the black accent wall in this Park Slope apartment bathroom. Of course, that cat and those brass accents are the real stars of the show.
3. Grape
This rich purple—literally called "Grape Juice"—adds a touch of fun and whimsy to the bathroom in this pop-art-inspired Chicago home . We've been seeing a revival of decadent purple accents lately, and love the dimension they add to any space, whether it's dark and moody or classic and refined.
4. Chard
Why not go all in on the "Jungalow" trend and go green on one wall? This lush "chard" color feels natural in this space from A Beautiful Mess and these cacti look right at home against this backdrop. The best part is there's no green thumb required (lucky for me).
5. Orange
The orange accent wall feels polished in this California home 's study paired with mid-century modern design furniture. Add graphic elements that pop, or introduce natural fibers and a warm color palette for a southwestern spin.
6. Citrus
Add a little sunshine with a bright accent wall that feels fresher than a glass of lemonade. Bright colors have been proven to lift spirits and even help us stay awake, but they can be overwhelming en mass, which is why they're perfect as an accent. The striking hue in this Madrid dining room certainly has our eyes peeled.
7. Red
Substitute millennial pink for a showstopping red accent wall. Like a classic red lipstick, this can be a decidedly feminine choice, but it's anything but understated—particularly in this eclectic dining room . Think of it as a daily reminder to live out loud.
8. Mint
We love mint accent walls because they are at once invigorating and calming. While this bedroom features modern decor, a mint accent wall looks at home scaled up with eclectic vintage decor or paired with minimalist eastern-inspired elements.
9. Evening Dove
Okay, you caught me. I love blue. But this blue-gray makes our list for good reason. Ever notice that brightly colored buildings look particularly stunning at dusk, against the backdrop of overcast midnight-blue skies? Such is the phenomenon you will encounter upon introducing this shade into your home. Add a pop of color with a piece of furniture, print or accessory—pick a color, any color—and voila! Stunning.
10. Wallpaper
Okay, so it's not exactly a color, but wallpaper accent walls are particularly on trend now, and this San Diego-inspired cacti wall is one of our favorites because it incorporates color and texture so beautifully. If you don't have a favorite print, don't have the patience for a gallery wall or are simply a minimalist by nature, a wall full o' wallpaper can be just the trick to add a little interest.
When it comes to accent walls, we've found that they key to being happy with your selection is flexibility. No matter how your tastes evolve or how interior trends change, these colors pack a punch when it comes to style and adaptability.