Home decor trends come and go, but some have staying power—even if they initially seem like flash-in-the-pan fads. To prove this point, a handful of interior designers shared what design trends of yesteryear are popping up in spaces today. From wicker furniture to neon color palettes and more, here are ten home decor trends that are about to make a comeback for this summer and beyond—plus, how to work them into your home.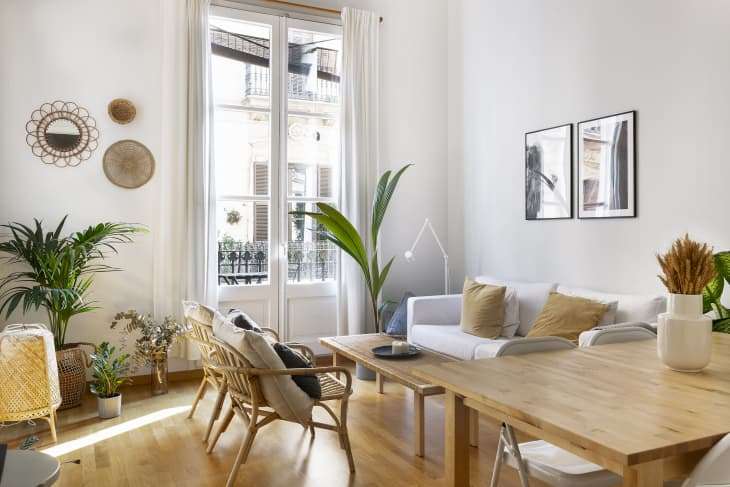 1. Wicker furniture
Designer Danielle Fennoy of Revamp Interior Design says wicker furniture —rattan's close cousin—is about to resurface in a more contemporary way than you might be used to seeing. "A lot of people think of it as the furniture choice of the 'Golden Girls' or 'Gilligan's Island' generation, but believe it or not, wicker has been popular throughout history," she explains. "It was revived in the Arts and Crafts period of the 1900s and then again in the 1960s. It's been making a steady comeback in the 2000s." This time around, expect less of a '90s sunroom vibe and a more modern, boho feel when wicker is mixed in with matte blacks and other darker, grounding shades.
2. Moody kitchens
If you thought clean white kitchen palettes were here to stay, designer Marie Flanigan says to think again. "For several years, white and bright kitchens have been 'le look du moment,' but moodier cabinetry is making a comeback," she says. "I foresee navy, hunter green, and even beautifully stained wood cabinets becoming more and more popular."
3.  1980s everything
If you're a fan of the bold colors and silhouettes of 1980s home decor, then designer Tavia Forbes of Forbes + Masters has good news for you. "1980s pastels and neons, paired with the curved and bulbous lines from 2019, are making a comeback," she explains. "We are going to be seeing a ton of fun spaces that marry these futuristic and retro aesthetics."
4. High contrast hues
While mixing different prints and patterns remains a popular design trick, designer Meghan Hackett-Cassidy of Hackett Interiors says using contrasting colors in the same space is about to be all the rage, too. "With so many opportunities to mix and match, we predict color contrasting to be a huge deal again for the future," she says. "For instance, a contrasting color for the island in a kitchen can create a sleek and sophisticated space that has just the right amount of color pop amongst a clean and simple countertop, backsplash, and cabinets."
You can also see a high contrast concept at work in the molding and walls of the dining room above. Contrast can work many ways—dark and light, saturated versus muted, or even monochromes, as long as there is a big visual difference in tone.
5. Floral wallpaper
Few things energize a room faster than floral wallpaper , which is why designer Justin Q. Williams of Trademark Design Co . says this sprightly decor trend is starting to resurface in a modern, big and bold way. "I'm almost certain that everyone has a family member that had (and may still have) floral wallpaper in their home," he says. "Well, you'll find that this trend is beginning to circulate once more, yet now it's a bit more dramatic with deeper colors and on a much larger scale."
6. Cane furniture
If you aren't already hip to cane furniture, designer Keia McSwain of Kimberly and Cameron Interiors says now's the time to smarten up. "Caned furnishings have made a tremendous comeback," she explains. "While it's often confused with wicker, caning is a specific craft of applying rattan cane to furniture. We're seeing it repeat a hot time loop from the mid to late '80s to 2020. I vividly remember when I was little, eating anything and everything from spaghetti to strawberry oatmeal in our cane backed dining chairs."
A dining room or kitchen is an easy place to incorporate cane chairs, but you can also find beds, benches, and shelving units with cane backs. Like wicker, the secret to styling this material for this summer and beyond is mixing it with a few darker furnishings as opposed to all light, pastel shades.
7. Statement art
Originally popular in the hyper-charged environment of the 1980s, designer Carneil Griffin of Griffin Direction Interiors says large scale art pieces are starting to reemerge in today's interiors. "Artists, celebrities, and tastemakers in the '80s had homes with walls covered in huge Basquiat, Warhol, and Haring paintings," he explains. "Today we can see the trend reforming right before our eyes, as people aim to create the perfect Zoom, Facebook, or Instagram live background."
Pieces can be abstract, figural, photorealistic, or even pastoral in nature—really any genre works. Obviously, this trend translates well into murals painted across full walls. In addition, large scale framed, fabric, and canvas pieces, however, are starting to rival gallery wall arrangements above sofas in the living room and elsewhere in the home. The next time you feel compelled to fill a bare wall with a bunch of little works, think about hanging one big statement piece—or commissioning a mural by a local or favorite artist—instead.
8. Peacock chairs
Forget that they were all the rage in the 1960s and '70s—designer Monet Masters of Forbes + Masters says peacock chairs, which likely originated in Asia and were associated with the Black Panther movement , are popping up in interiors again and will be here to stay this time around. "The iconic peacock chair has been making its way back in for years," she explains. "As 2020 takes a hard look at Black history, we will see more and more of these visual icons outside of beach homes and patios."
9. Four poster beds
Nothing looks more old school in a bedroom than a four poster bed, but William Cullum, senior designer at Jayne Design Studio , says that isn't stopping them from popping up in the modern day spaces he designs. "Although you can see canopy beds all throughout history and, most recently, in the (slightly overdone) 1980s confections channeling the British country house aesthetic, we've had requests for four poster beds in the last year," he says. "They are great for giving architecture and style to a simple room and help define space."
10. Playful powder rooms
Not sure how to decorate an awkwardly-shaped, tiny half-bathroom? Erin Hackett of Hackett Interiors says flashy powder rooms filled with eye-catching wallpapers and decorative accents are about to return in a big way. "In the past, the powder room was a place where wallpaper was very popular, and we foresee this to be a big deal again this year," she says. "It's the perfect place to play around and incorporate bolder elements that make a statement, including cool light fixtures and finishes."