For this review we tested the 32in model in the range, but it's also available in a 42in screen size (LE42K0D7D). That model has identical specifications except for its dimensions and power usage. We're confident that image quality will be practically identical across the range.
AOC is a fairly large manufacturer of reasonably priced computer monitors, but the company isn't quite so well known for its range of TVs, at least here in the UK. If the feature set of the new LE32K0D7D is anything to go by, it could become much better known. A Full HD resolution and 100Hz panel are both welcome features in a budget TV that costs around £300.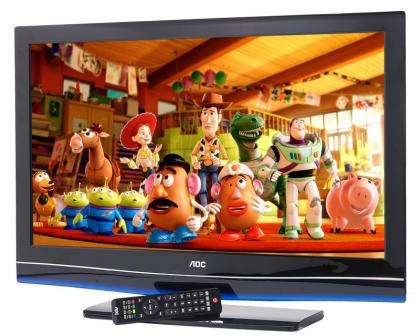 On first inspection, the rather chunky screen bezel doesn't look particularly attractive, but it is at least well built and surprisingly thin. The black plastic stand is easily removed so the set can be mounted on a wall. We were surprised that AOC has eschewed CCFL in favour of an LED backlight at this price. Although using LED is no guarantee of superior image quality, it should provide a welcome reduction in power consumption compared to an equivalent CCFL-equipped model. It managed to create even illumination across the whole panel, with very little bleed except on very dark images.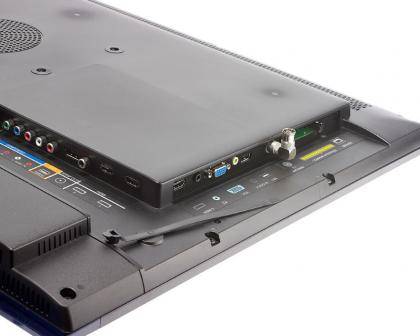 Click on the image to enlarge it
Connectivity is basic, with two HDMI ports, VGA, component and composite video and a single PC input, as well as coaxial S/PDIF and stereo phono audio outputs. You can connect an external hard disk to the USB port for video playback, but you won't be able to record TV broadcasts on it. Pictures and audio files weren't recognised, but most major video file formats were supported with the exception of DivX. The TV's speakers are below average, failing to produce and discernable bass.
Understandably for such a low price, AOC has used a regular Freeview Tuner rather than Freeview HD, so television broadcasts will only be available in standard definition. To make the most of the 1080p panel, you'll have to connect an external set-top box that supports high definition broadcasts. At the default display settings, Freeview broadcasts suffered from a great deal of artefacts, even after we'd enabled the noise reduction settings. Although it was only slightly noticeable on higher-quality channels such as BBC One, the effect was far more prominent on channels using a lower bitrate, such as Quest. There was also a lack of detail in the lower bitrate channels. Colours also looked slightly too vibrant until we'd toned them down in the menus.