Boy there was A LOT to drool over in Joy the Baker's New Orleans house tour . Like every square inch, basically. (And the cat!) But there was one detail in a tucked away bathroom that readers seemed particularly drawn to: the simple but beautiful photo wall in Joy's bathroom.
The photos
The photo wall collage in Joy's bathroom was made using the company Print Studio , and you can get a set of 24 prints for only $12. Joy's wall has more than just 24 prints, but even a set her size would be less than $50.
The photo collage isn't a new idea, but I love talking about — and making one — right now, at the end of the year. What a great way to survey all your favorite memories, and display them so you can be inspired to make more in 2018. And while you could, like Joy, put it in a personal spot like the bathroom for yourself to enjoy, if you're on the hunt for a fast and easy way to refresh any wall in your home before the holidays (and guests) arrive, this is perfect.
Pro tip: Be sure to sign up for the Print Studio's email newsletter as well as a few other companies that offer prints like this. I know from my own inbox that there have already been some great holiday printing deals, so there may be more on the way that can help you save money!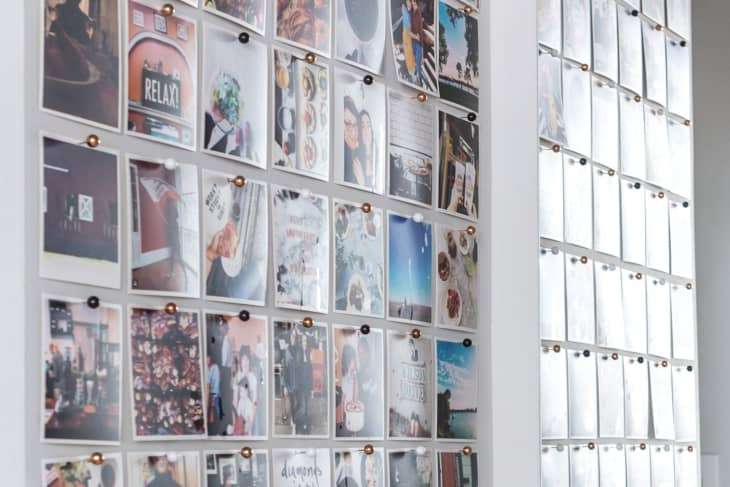 The photo-hanging method
Many of the comments about the photo collage seemed to be centered on how she hung her photo collage up, so Joy jumped into the comments demystify the method:
"The photos are just attached to the bathroom wall with thumbtacks. Very low tech moves in there."
Sometimes the simplest solutions are the best! And gratefully, you can find nice rounded thumbtacks like the ones Joy used for cheap; this pack of 40 is only $5.29 on Amazon .
But as is often the case, readers had other great ideas on how to easily create a photo memory wall like this; I personally had never heard of a Magnetic Photo Rope like reader Tracy Batwinas suggested, but it seems like a fine solution.
However, Tracy had an even cleverer idea I may have to steal to make my own photo collage wall, especially since I also have really old plaster walls that likely would not survive a lot of pinning and repinning with thumbtacks:
"My solution? I can cover the entire wall in stainless steel sheets for about $60. Once I spackle and paint you won't even be able to tell that the wall isn't drywall and I can arrange my pictures however I wish whenever I wish. With whatever amazing magnets I wish. The paint will get scratched for sure, so I could even try out a bare stainless steel wall if'n I wish. We're planning on using stainless steel tile in the kitchen, which is right there, so it might work. Otherwise, I'll just have to plan on touching up regularly.
Think it would be loads of fun to do in my husband's/guest 1/2 bathroom downstairs as well. The wall is far too close to the toilet to be able to do much with it but a magnet wall could be gorgeous and fun, too, if we keep some magnetic letters or puzzles within reach. My husband and I could leave little love notes for each other. It'd be like easily erased graffiti!
…I think one of the things that makes the pictures work is the smaller size they've been printed out on. I forget the size but Shutterfly prints out in that size, too. But if MY pictures start to curl then I can just "shwapp!" another magnet on them!
Thanks Joy (and reader Tracy Batwinas ) for the simple but beautiful 2017 memory printing idea!