When you feel like a fresh start, decluttering your house is a great way to solidify a feeling of change. Events like the New Year, moving to a new home , or a relationship change are all great opportunities to take stock of what you own and get rid of what you don't need. Why not apply the same mindset to a milestone birthday?
If you're just turning 30 or you're just ready for a little decluttering, here are 10 things you might not want to carry on through your adult life: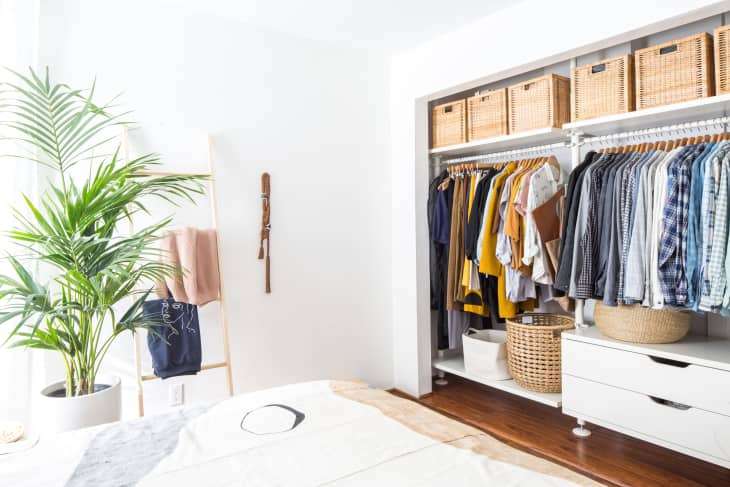 1. Cheap, wire clothes hangers
There's something to be said about choosing quality clothing items over fast fashion you'll wear once, right? The same principle goes for how you store your clothes. If you're still using thin wire clothes hangers, try upgrading to a more substantial collection, like quality plastic , solid metal hangers , or for a more luxurious (and minimal) vibe, go for wooden ones instead . You'll probably never go back to your wire hanger ways!
2. A collection of shot glasses
It's smart to have a couple shot glasses in your kitchen. You never know when an occasion will call for an Old Fashioned (or just some tequila shots). But you likely don't need a half dozen of them hanging out in your cabinet. Unless you're keeping them for sentimental reasons, it's ok to send away half — or more! — of your collection. (And if you are saving them for sentimental reasons, consider that maybe they don't need to take up space in your kitchen.)
3. College textbooks
There's absolutely nothing wrong with keeping a few choice books from your college years, especially if you're working in the field you studied. But, really: What are the chances you'll crack open that Biology 101 textbook from freshman year? Pass it on to someone who needs it and make room for your current book collection.
4. Clothes that don't fit
This one may seem obvious, but it's always a good idea to parse through your closet and dresser at least a few times a year to take inventory of what you need and what you don't. Along with trying things on to see if they still fit, check for holes, stains, or wear and tear that make any items unwearable. And as a general rule, if you haven't worn a piece of clothing, shoes, or accessories in the last year, consider parting ways.
5. Mismatched plastic cups
Unless you've got kids around or are extraordinarily clumsy, it might be time to invest in your very own collection of glasses that don't come from local fast-food joints. We love a good set of glass tumblers to elevate the everyday (and give you something to mix drinks into when you have people over).
6. Old, unused bedding
Are you hanging on to that extra long twin sheet set in case you decide to invest in a dorm-style bed someday? Chances are, any old bedding you're not currently using in your rotation will just accumulate dust and take up space. If it's clean and in good shape, put it in the donate pile.
7. Ratty, mismatched towels
Nothing says "adulthood" like a matching set of robust, fluffy towels. There's a time and a place for a couple rogue beach towels, but if you have old, ratty towels and washcloths cramping up your bathroom storage, get rid of them and opt for a couple of better-quality ones instead.
8. A bunch of novelty mugs in the kitchen
We get it. There's something oddly nostalgic about sipping your morning coffee from a mug you picked up on a trip in the early 2000s. But you probably don't need multiple novelty mugs taking up space in your kitchen cabinets. Choose the mugs that mean the most to you, and store only what you use in your kitchen. If you have extras, consider using them as pencil cups or planters for small plants — they'll get way more love on your nightstand or desk than in the back of the cabinet.
9. Old, unused electronics
Let's be honest: Are you going to use that old Dell laptop from college or hunker down on the couch with your multiple seasons of "Friends" DVDs when you can just stream it? Now is the perfect time to say goodbye to any and all outdated technology or entertainment, including DVDs, CDs, laptops, old cell phones, and non-functional printers. If you haven't used something recently and don't plan to (or, of course, if it doesn't work), go ahead and donate. You might even be able to re-sell some things to make money (and space) for the stuff you do use and listen to — like your growing collection of vinyl records.
10. Mismatched food containers
Plastic food storage containers can be cheap and convenient. But mismatched, stained, or warped containers are a sign to take the leap and invest in some quality containers to make your meal planning dreams come true. A set of glass food containers with locking lids will be easier to clean and will last you far longer than the ones that came with your takeout order. See if you can pass the plastic containers on to a sibling or donate them locally.