Let's forget for a moment about couples and focus on the two elements that usually form it: the man and the woman. By far, women are the most complicated and in a way, it's the reason why men work so harmoniously together. When it comes to interior decorating, the differences between sexes become obvious.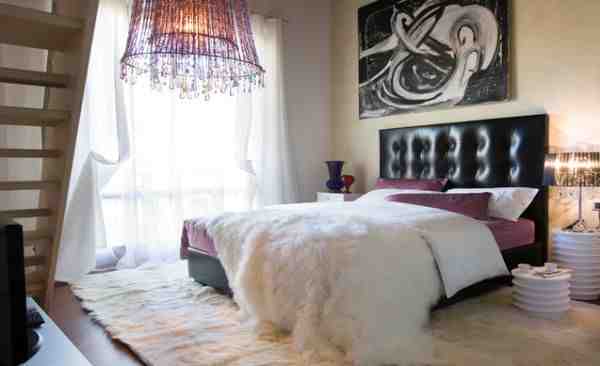 A feminine bedroom will most likely feature an eye-catching light fixture
A woman will most likely prefer her bedroom to be cozy, inviting, bright and decorated will all sorts of little things. The bed occupies a prime role in the décor but a woman's bedroom is not limited to functionality. It also has a more artistic side. Certain prints are very popular in such cases.
Artwork is an important part is such types of interior decors
This particular type of bed is feminine but it also feels imposing and strong
Most often, the accent colors in feminine bedrooms include soft shades and warm tones
A more traditional, Tudor-style bedroom featuring a beautiful chandelier
The elegant chandelier and the antique furniture make this bedroom look very chic
Pattern also seems to be very popular along with ruffles and other decorative elements
Even in a simple bedroom décor like this one you can see the feminine touches
The shape of the headboard can say a lot about the user of the bedroom
The four poster bed is definitely a symbol for chic feminine bedrooms
This bedroom is wrapped in artwork and the furniture doesn't look bad either
A modern play on the timeless black and white color combination
For example, women like flowers and cute things and the colors they prefer tend to be more on the romantic side. They decorate their bedrooms with pastels, lovely curtains and lighting fixtures that are real works of art.
Bold floral patterns are a more modern representation of the traditional look
Pastels are very delicate and beautiful and they work well in combination with soft textures
Kids' bedrooms are even more indicative of the sex of their user
Sometimes a feminine bedroom may surprise you with its interior design
A delicate bed frame plus a mirror and some floral arrangements result in a feminine décor
A mix of patterns and colors that work together harmoniously
Although the elements of this décor are elegant they form a rather casual mix
An interesting mix of delicate and clean, straight lines with bold accent colors
A canopy bed is probably the most feminine type you can find at this point
Although pink is associated with feminism, it's not that popular in bedrooms
A soft and delicate color like pink could look good in combination with darker shades
Real or not, plants can make a bedroom feel more relaxing and inviting
The curtains and the textures in general are very important in the bedroom
Women like to surround themselves will all sorts of small items that represent them
Of course, not all women are like this. Some prefer simplicity and there are cases when the usual floral patterns and accents can be completely missing from the décor. Instead, they can be replaced by simpler designs, geometric patterns and more abstract designs. Nevertheless, whatever the case is, a woman's bedroom will also tend to look elegant and stylish.
Picture sources: 1, 2, 3, 4, 5, 6, 7, 8, 9, 10, 11, 12 and rest from pinterest.