Get Inspired with these beautiful bedroom ideas for women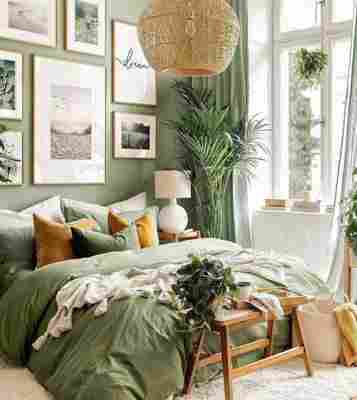 There are few rooms as personal as a woman's bedroom, and the decor ideas expressed here should be no exception to this rule. Whether you have been decorating for many years or have finally moved into your place, there is no better time than now to express yourself and improve your space. It can be an enriching experience to create a cute bedroom idea that satisfies both your taste and needs. In this post, I take you through some bedroom ideas for women and what you can do to achieve that look.
Listen to this post…
Feminine Bedroom Ideas
A woman's bedroom is one of the essential rooms in her house. It's a place where she spends time relaxing, unwinding, and getting away from the hustle and bustle of everyday life. There are many ways to make any bedroom decor into something that reflects your personality and provides an oasis for you to retreat when you need to getaway. Here are some examples of great styles for women who want their bedrooms to be stylish but comfortable, too!
Classic Styling
Go back in time with this sophisticated style. The use of dark colors gives the sense that the walls are richly decorated with ornate furniture and intricate patterns, such as deep reds on all four walls and even continuing up on the wall behind the bed. With all of the black and dark colors, this room's idea is elegant without being too stuffy or overdone. A plush armchair in the corner with a simple table at its side provides a good spot for relaxing with a good book or just looking over your wardrobe the night before an important meeting at work!
Shabby Chic Bedroom Decorating Ideas
Make use of pastel colors to create an "old-fashioned" atmosphere that somehow manages not to be overwhelming. The color scheme's lightness helps keep everything from becoming too busy by tying everything together with similar hues. The pink bedroom walls are complimented by white wainscoting on either side of them, adding some additional visual interest while also making the walls look even more feminine.
Create an accent wall for a small bedroom idea that features a beautifully textured plant mural that is sure to catch the eye. The hanging ferns help to highlight the stylish nature of this women's bedroom while also creating an comfortable and inviting environment. It's no surprise why many people spend so much time in their bedrooms!
Modern Bedroom Decorating Ideas
Please make use of warm colors to create a visually exciting environment, while at the same time making it feel cozy and comforting. There are several different bold colors on each wall, but they all work together to create a unique design full of life and energy without looking too cluttered or tacky. In fact, some of the colors in this room are so bold that they might not even work in just about any other interior space! Bold green and orange accents help to add a lot of character to a bedroom design.
Break from Tradition with Elegant Style
In general, men don't have huge bedrooms, but that's not always the case for women. With a room that makes use of the ample size by creating an elegant and stylish environment while also making it feel like it belongs to someone who lives there instead of someplace you would only visit on rare occasions. The color scheme is broken up into different sections on each wall which helps divide the area without allowing one section to become too busy or too dull at the expense of another section. Neutral colors such as brown and beige provide a rich base for showcasing light blue and white accents.
Drop Dead Gorgeous Bedroom Decorating Ideas
Make use of several different colors, but they all work together to create a vibrant environment that is still understated enough to give you the feeling of being at home without any distractions. The colors themselves are very warm and comforting, but there are also plenty of other design elements that help keep the master bedroom elegant without becoming too stuffy or boring! A variety of wall decor art helps break up some of the larger sections on each bedroom wall while still allowing other portions to stand out more than they would by themselves. This is a great example of a modern style.
The shag carpeting may not be everyone's style, but it adds another touch to this room that helps accentuate the overall theme and design without making it too boring or difficult to clean! The addition of a richly decorated mirror on top of a wooden dresser is another way to add some character without overpowering any other design elements.
Designing With Colorful Intent
If you love using every color under the sun, a colorful guest bedroom may be just what you need to truly express yourself through your bedroom decor idea! Of course, you don't have to use all of these colors in a tiny room; all three sections help show off different aspects of how each color can be used alone or with other colors! The walls are painted with warm tans and browns, which complement each other very well while creating some visual interest by allowing the lighter colors to take the forefront.
The large window helps bring lots of natural light into this room, making it feel even more spacious and comfortable. In contrast, the wooden furniture helps provide a foundation that goes along with each piece of wall art or decorations placed on top of them. Designing a bedroom should be one of your favorite parts of decorating your home because you can truly express yourself by letting your creativity flourish!
What are the best colors for a woman's bedroom?
There are so many different bedroom ideas out there; it can be overwhelming when you try to pick out your own. Here are some bedroom color ideas for women that can work in any room.
1) White is classic and goes with everything – the newest trend is to paint one wall white, then use another accent color on another partition or around the room for contrast. It's not too much of a commitment since you only have to draw attention to one wall (so it's perfect if your walls aren't entirely straight). If you like the look of a tufted headboard but don't want to make holes in your wall, painting an accent wall works exceptionally well since you can easily attach an upholstered headboard right to the wall without having visible screws or bolts.
2) Gray is the new neutral – a grey bedroom used to be thought of as a 'manly' decoration color, but now it's becoming more prevalent in interior design. If you are looking for an understated bedroom color scheme in your room design, this may work well for you-gray is one of those colors that can go with anything and isn't too bold or bright. This color will also give stillness to your room even if the walls are busy with texture (for example, wood paneling). With so many different shades out there, choosing just one may seem overwhelming. Try starting with lighter grays in the bedroom, which can easily transition into deeper tones when paired skillfully next to deep blues or greens later when you want your color scheme to be bolder.
3) Blue is the new black – blue has always been a popular color for a bedroom, but it can sometimes come across as too girlie or babyish. However, there are some versatile shades out there that may not make you feel like you're five years old again – try a deeper shade of blue mixed with gray for a sleek and modern look without being too girly. If you prefer brighter colors in your bedroom, try an electric shade of blue that will pop against white or neutral walls.
4) Greens are most restful – don't be afraid to go green! It's a perfect pairing with black and brown furnishings to minimize any harshness they may have since these two colors can complement each other. Try a deep shade of green on the wall behind your bed if you usually keep it unadorned, and it can also work well for accent walls in your bedroom where you want the focal point to be something else (your headboard or TV). You can also paint just one wall green to add visual interest without overwhelming your room.
5) Black is versatile – black is the new white! Well, not really, but almost. With all of the negative press surrounding black that says it's too hard to maintain or too harsh on the eyes, consider that even bedrooms need color, and some rooms like bathrooms may benefit from this dark hue since they see more wear and tear than other parts of our homes.
So, go ahead and paint your bedroom black if it can work in your space. However, please avoid using the same color for the furniture throughout your bedroom since this black will feel very monochromatic and could make a smaller room look even smaller than it is. If you choose to use black in only one accent wall, select pieces in another color (or white) so your room doesn't come across as too harsh or busy.
There are so many colors out there; you may be overwhelmed when you start thinking about choosing something just right for you. Sometimes people like to use all of these ideas in their rooms, but that can look overwhelming too – the best way to decide on bedroom colors is to choose one that will complement everything else in your bedroom. This may be the color of your nightstand or even just a bedspread, but finding one neutral base and contrasting accent colors will make the whole room feel cohesive and exciting at the same time.
How to decorate your room with only one color?
One color can create a bold statement in your bedroom that can wake up the space. Try to use either monochromatic colors or slightly different tones of the same shade for this bold look. For example, if you select bright green as your favorite color, try painting one accent wall with bright green and then use other hues of this color on smaller pieces like lamps, rugs, etc. This will create a beautiful harmony in the room without looking too bland or boring.
Warm colors like red, orange, and yellow are also famous for bedrooms because they contrast with most neutral color schemes, primarily white walls. However, if you want to use one specific shade of these warm colors, use them on smaller accent pieces while keeping your more oversized furniture items in different shades of whites and grays. This will give your space depth and dimension that is stunning!
Tips for creating a great bedroom space for women
The bedroom is not only a place for sleep. It is now the room where people make important decisions or do something they don't want anyone else to know about. Having your private place with all the amenities you need is very inviting and makes you feel comfortable. Today's bedrooms are getting more elaborate than before, with different styles that can suit your personality depending on how you design them. You can even change the room's entire look just by changing one piece at a time until everything matches up perfectly! Here are some tips for making your woman bedroom an oasis far from the pressures of daily life:
1) Add mood lighting or pendant lighting to provide soft illumination in strategic areas of your room like near the bed, nightstand, or even near the bathtub. You can also hang floor lamps to illuminate other areas in your spare bedroom. This is not only aesthetically pleasing but helps set the mood for a romantic evening.
2) Add a small drop zone where you can leave your keys, wallet, and cell phone after a long busy day so you won't have to worry about getting messy on dirty surfaces when rushing out of the house.
3) Place plants around the room because they not only add an inviting look to any room, but they purify the air as well!
4) Install mirrors instead of paintings on one wall because this will trick people into thinking that there is more space if placed correctly!
5) If you're a nature lover and want to add some green into your room, you can place miniature indoor plants and flowers on decorative baskets and window ledges.
6) Install shelves around the walls because they save space and make items easy to reach instead of having them piled up on top of each other in high places.
7) Add a headboard on your bed frame, so you get more storage space, such as cabinets or drawers underneath for extra linens and blankets. This is also very convenient if you have kids that need somewhere to put their favorite things!
8) Place a throw rug near the bed to create a cozy area where you can sit down when putting your shoes on in the morning. Add a pillow or two too! Match the bedding and find a great bedside table too.
9) Create your design using simple and inexpensive frames and hang them to create a collage above the bed because you can choose pictures that represent you as an individual or those that denote special memories!
10) If you have lots of storage space underneath the bed, such as pull-out trunks, use it for extra blankets, linens, and pillows so they won't get dusty under there! Plus, this gives you more room to move around in your bedroom, keeping things nice and tidy.
Everyone can choose from many different styles of minimalist bedroom designs depending on how much time and effort they want to put into making their dream bedroom come true. Just don't be afraid to think outside the box when designing your bedroom because it's your own space, so you can do whatever you want with it!
So, let's take a look at some great examples of bedroom ideas for women.
Can you spread the love and share some images? It would be really nice if you could share some images and pages on your social media. It's just a couple of clicks for you but it means everything to us here at Houszed. Thank you so much!
Take a look at these small bedroom ideas for women
I hope that the above images on bedroom ideas for women have given you so something to think about. As always, please share this post on your social media or why not pin some of the images on your Pinterest account.
Since you are here…can I ask a favor? It would be really nice if you could share this image and page on your social media. It's just a couple of clicks for you but it means everything to us here at Houszed. Thank you so much!
Read latest posts
Video
Citation
LA Times