Your bedroom should be a place you always want to come home to. Think about your bedroom and you want to think of sleep and relaxation. When it comes to bedroom ideas for couples, you have to place a priority on the taste of you and your partner. You need to choose colors that are neutral or combine colors that you both like. You also need decor pieces that you both love or at least can tolerate.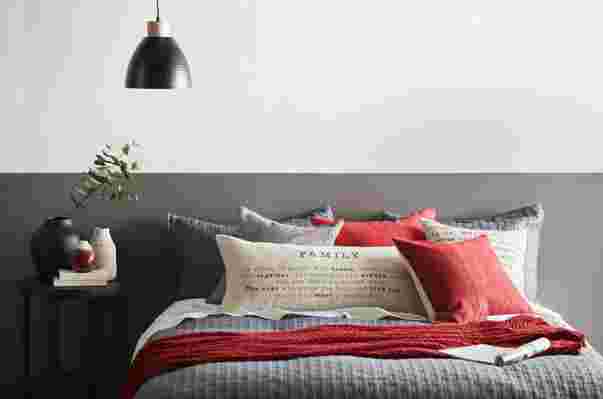 The beautiful thing about being a couple is that there will always be a need to share. From the king-sized bed to the thick duvet and virtually everything else, you want to create a cozy and perfect environment that will make all that sharing easy. We have some bedroom ideas for couples to create their dream bedroom.
Shiplap Wall with Wall Inscription
Rustic/farmhouse style has become a top decor style for a reason. It is for people that like beautiful and simple things. What better way to show your taste than with a shiplap wall? It is the use of interlocking boards to create a special textured wall. It can also be used as an accent wall. It's usually a bit more expensive than drywall but it's worth it. A wall inscription will fit in nicely and you can choose any words of your choice.
Elegant Nightstand Tray
Nightstand trays are mainly appreciated for how they can help stay organized but you can use them for more. Beyond their functionality, it can quickly become a vital decor piece for your room. Next time you're out shopping, don't just choose any type of nightstand tray. Pay attention to one that looks elegant.
Black Accent Wall
Give your bedroom a classy look with a black accent wall. With only one wall painted black, you can be sure it will not overpower the entire room, making it dark and gloomy. White is a great color choice to combine it with. Both colors are gender neutral and lovable. For other decor pieces, you can play around with a pop of colors.
Cozy Color Choices Beyond Black
If you don't think you can pull off the dark and moody vibe that a black wall brings or you're thinking of something slightly more colorful, you've got some options! There are other dark, cozy colors that you could incorporate into the color palette. Navy, purples such as deep plum, or emerald green are all dark, relaxing color choices that won't be too dark.
Scripted Sign
Words are powerful, whether they are read or heard. The kind of words you keep around you influence the way you behave and react to situations. A scripted sign is a good opportunity to highlight a word or statement you want yourself and your partner to remember for a long time. It can be a word of affirmation, your favorite quote from a book or movie, a line from a song, or even a promise you both made to each other. It is functional and can also be aesthetic. Get the words scripted in cursive for calligraphy.
Colorful Pillows with Inscriptions
More pillows on your bed mean better pillow fights. If that isn't a great bedroom idea for couples, we don't know what is. For this, ensure the pillows are soft to avoid causing injuries. Pillows can also help you snuggle up at night. It doesn't end there. You can send beautiful messages to yourself and your partner using your pillows. You simply have to choose the word or words that will be inscribed on them. Depending on the decor going on in your bedroom, it would be nice for the pillows to be in different colors.
Flower Wreath above Bed
This is an exciting decor idea. A quick look at the bedroom ideas for couples will show that this is one you can easily do yourself. You get to choose your flower and what type of wreath you want to make. You could also make use of floral hoops. Since it's DIY, it's something you can do with your partner. Enjoy a little bit of bonding time making this while you engage in small talk. When you're done, simply hang it above your bed. It would be a refreshing sight to behold.
Rustic Furniture
Adding rustic furniture is a great way to create a natural and simple look. It helps to provide a cozy and warm vibe, the kind you need for quality relaxation when it comes to bedroom ideas for couples. Rustic furniture usually looks distressed and aged. You can use it as your bed frame, dressing table, or even side table.
Gold-Themed Accents
Gold accent screams "luxury home". If you want to always feel like you're both lodged away in a fancy place or an expensive hotel, a gold accent is a way to go. As an accent, it's in the little things. Using it all over the place can look excessive and kitschy. Focus on using it on small size decor pieces like a vase or a nightstand tray. It will give your room a polished look, making it a place you look forward to relaxing in.
Large Framed Wedding Pictures
For every couple, the wedding day is one of the happiest memories they have. It is one to cherish and hold onto for the rest of their lives. Along the line, things can get a little bit rocky and it wouldn't hurt to have a reminder about why you both set out together in the first place. It is a beautiful decor piece that helps you stay determined to make things work.
Sunburst Mirror Decor Piece
The sunburst mirror, although popular, can not run out of style. It has been here for a long time and has some deeper meaning beyond being a decor piece. It has an interesting look and would sit great right above the bed frame.
Navy and Blush Color Palette
For a couple's room, you want both parties to feel a sense of belonging and that can be seen in the color palette you choose. It doesn't have to be each party's favorite colors as they might not be good choices to be used together. Both parties simply have to like the colors to a reasonable extent. Navy and blush is one representative color scheme. In any room they are used, it turns out beautiful and looks modern.
Play Around with Patterns & Textures
You've already brought two separate lives together when you became a couple, and now you have to bring your personalities into your space. Don't shy away from mixing patterns when you're designing your bedroom! You don't have to stick to only one or two colors in a room or stick to only having a subtle floral pattern throughout all your linens and accessories. Mix and match to your heart's content. While mixing patterns, you can also add in layers of throw blankets or multi-textured pillows.
These bedroom ideas for couples will surely inspire you. You don't have to replicate the same thing. Seriously, there's no fun in that. Take these ideas and infuse your own style into them. One thing to remember is that your bedroom is a space the two of you must love.