What gets to your mind when you think of your bedroom? Do you imagine it to be serene and relaxing or just another room with mess and boring furniture lying around. Well, irrespective of what you want it to look like, you must agree that the bedroom is the only area with the least amount of attention given because no guest will step in there. But no matter what, a bedroom still needs to be the most focused and inviting room because that's where you go to relax and recharge all the drained energy. When your room appears to be organized, spacious, and pulls out a fresh vibe, it's likely to make you feel more rested and energized throughout the day.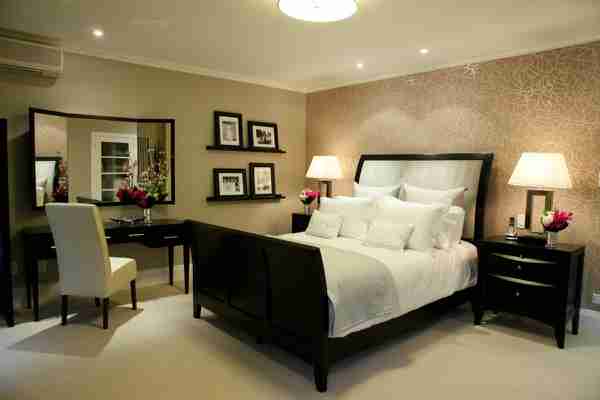 How you decorate and maintain your space reflects a lot about your personality. A bedroom must design as per to portray a lively and energetic atmosphere around. Being a center to your home, one must never compromise on its makeover as well. If it would present a pleasing and welcoming sight, only then you are going to love being around those familiar walls and set up.
While top-notch and luxurious bedroom ideas may get you in a trap to believe those sights, you must know that it is not the ultimate reality. A full-size bed, spacious room, expensive décor, and top-quality chandeliers All of this may excite you for a time but remember the sole purpose a bedroom aims to provide. The basic functionality is to make you unwind all your stress and make you recharged for the next day. Therefore, high end and expensive makeovers are unnecessary, and you do not need to spend bucks of money to get the desired outlook.
source:
We have gathered for you reasonable décor ideas. There might not be a lot of difference in bachelor men's and women's bedrooms, but they vary in detail. Extracted from a variety of designs, we have brought pocket-friendly yet creative bedroom ideas for single women. Have a look through our guide to get your perfectly designed bedroom:
Repaint The Walls
New paint does change a lot about a room! While being the easiest, cheapest, and most versatile way to modify your space, repainting your bedroom as per the existing trend will surely make everyone love the new change. Before you dwell on repainting the walls, there are certain things you must decide. Color impacts the entire aura and varies in how they make you feel; hence, making a wise decision. Select white and blue shades if you need a calming and relaxing atmosphere around. For a more natural and nurturing feeling, go for Green shades. For a rush of positivity at the start of each day, go for Yellow and Orange. The choice is all yours to make!
Navy Hues
If you love dark tones, then the navy colour is a definite pick for you. Despite being dark, it still doesn't give a pessimistic and depressed outlook to the room. It adds more of the warmth and goes perfectly with neutral and dark shades of furniture set up. Boost up the appealing view by adding yellow lights along, and you are going to love your room for an extended time.
Textures
source:
Repainting doesn't only mean having a simple coating of colour on the wall. When we say it's a versatile way to redo your room, we have several ideas you can change the paint game. Textured paints are as convenient as a simple coating, but the results are more captivating. Another way is to add texture by using wall stickers and wallpapers to modify the walls' existing beauty.
Artwork
Another way to creatively utilize paints is to make artwork on one of the primary walls. To make your room look more spacious and grand it is advised to carry out abstract and figurative artwork on the wall opposing the entrance for it to be more vivid.
Corner Setup
Most of the time, people focus on bedding and furniture but miss out on the floor. A pleasing corner set up in a room instantly adds depth and pop of colour to the room. It reflects on being something that makes your room feel good and relaxing to step in. Have a look through our devised ideas:
Minimalistic
source:
Less is always more! Well, who doesn't agree with this? Keeping it minimal yet aesthetically pleasing, a small stool paired up with a lamp, and floor cushion adds a sudden rush of beauty and a captivating vibe to your place. All of it results in making a cute corner to rest on a cold rainy day.
Mirror Magic
Mirror work results in creating a powerful visual impact by reflecting light through it. When placed right above the corner, they develop a refreshing aura. Hence make your room glow brighter than ever before.
Rug Corner
Accessorize your room with fresh flowers and a traditional rug to add warmth and artistic view to the corner. When paired up with an old luggage bag, covered with a silk scarf and incorporated with fairy lights, this would turn out to be a magical corner of your room. Hang blue pottery plates just above the corner, and the sight would be mesmerizing.
Breezy Illusion
source:
All love a soft touch of breeze! However, if your room is short of windows and feels not so airy, then you need to look for the following ideas to make it look breezier.
Curtains
A thick pile of curtains in an already occupied room makes it look more busy and jumbled. Instead, we advise you to use light colors and cloth texture to make your space feel excellent and breathy. Most commonly, simple white curtains prefer a fresh, renewed look.
String Lights
A hanging thread of light is insanely in demand right now. Considering the impeccable trend going around, setting up a visually pleasing sight by casting shadows and warm illumination in your room is going to make it your favourite place to relax after a tiring day at work! Looking for a lovely place to read a romantic novel in hand? This transformation would directly coincide with your idea of a cozy place!
Setting up Space
source:
When it comes to bedroom ideas for women, space management feels like a never-ending struggle. But you don't need to worry anymore. We have brought the newest ideas to help you through. Before you start cramming up the place with large scale furniture, do think of easy ways to organize things without creating a mess.
Vintage Suitcases
Enhancing the aesthetic and vintage aspect of your place these suitcases assists in setting up an artistic corner but instead are perfect storage pieces. They brilliantly help save up space by storing books, scarves, and many such things for bringing out an organized and tidy outlook.
Hanging Shelves
When you have a small bedroom designs, organizing space turns out to be a tiring yet creative task. Hanging shelves are perfect for saving up space. Ideal for placement of books, decorative items, and functionality as dressing shelves are must-haves in a room for an intelligent organization and a modern outlook. These shelves come with an additional benefit of a choice between glass and wooden frames to choose from; suiting your intended purpose, you can make a choice!
Play With Colors
Colors never displease! Even many studies talk about the impact of color in the sudden uprising of mood. Where they have to power to lighten up the mood, a single wrong choice can make you feel sad every time you enter your room. May sound peculiar to you, but here's a guide to making sure you make the right choice!
Natural Plants
source:
What a pleasing sight to have plants in your room! Small units of plants here and there on the shelves and floor de-stresses the entire area. Allowing easy access of fresh air to the room, they also serve to purify the air with a cold splash of greenery in your room.
Vibrant throw and Pillows
Using a monotone color scheme may get boring after some time. For an enduring dramatic outlook, a contrasting scheme in bedding is a unique idea to build a vibrant and catchy tone of your room. Our favorite combinations include turquoise/grey and yellow/white.
Final Word
There are infinite possibilities of ideas when it comes to women's bedroom Design. Starting with your budget and reason for why you want to decorate your room, this initial planning may help you decide which initial idea to go for! Once you develop a clear idea of where to start, we are sure that you will love our comfortable and creative ways of decorating your room.