Products linked below have been researched and tested on this project. As an amazon associate, we earn from qualifying purchases.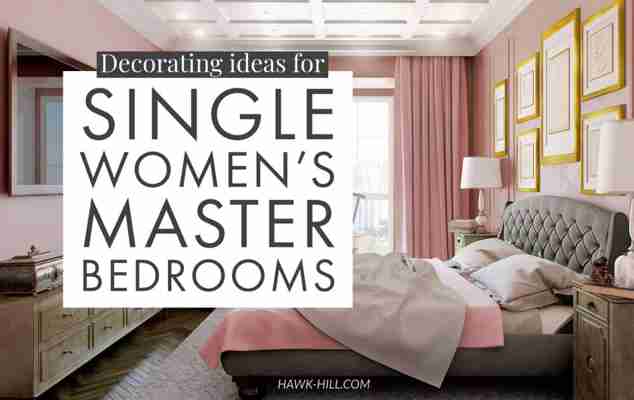 You've made the leap to your own home- perhaps even your first time taking the exhilarating ride of being a home owner, and you've done it on your own: How do the rules for decorating a "master bedroom" change in a climate where 15-20% of houses sold each year sell to single women?
Standard rules for decorating a master bedroom don't really apply when you are decorating a space to belong solely to you and your guests. In this post, I'm exploring various ways to celebrate the mature and feminine aesthetic of a professional single woman.
Based on design magazines and home decor catalogs, it's as if designers seem to imagine that after the 16-year-old's dream-bedroom (or perhaps the annual round of dorm-room-style mailers) a woman no longer has specific design needs for her bedroom- since, it's assumed, she now tempers her feminine style for a space shared with a partner.
I celebrate the female master bedroom and it's one of my favorite parts of a new design project. The master bedroom for a single homeowner can be a luxurious space of rest that caters entirely to you.
Here are 5 tips for creating drama and luxury in a sophisticated adult bedroom. For more ideas, follow my Pinterest board collecting ideas for feminine Master bedrooms from around the internet:
Splurge on a Bed & Bedding
Truly, a bed makes a bedroom. Choosing the right bed frame and linens is everything when it comes to designing your bedroom. Choose your bed and bedding first, collect furniture that works with the look, and you can't go wrong.
It can be tempting after saving up to buy your first house to furnish the house with the rental-grade fixtures you've been accumulating since college, but take time to take stock. How do you want your bedroom to feel? If the furniture and fixtures you bring don't fit, consider placing them in a different room. Give yourself permission to celebrate- and permission to make a splurge relative to your budget- to create a comfortable sanctuary in your bedroom.
Anthropologie rosette quilt and my vintage pressed metal bed frame
You've probably heard all the arguments for a quality mattress, and all of them apply to linens. Linens- sheets and pillows as well as throw blankets and duvets- do a lion's share of the work of creating drama and style in your bedroom and are well worth splurging on. Forget thread count (I'm pretty sure that's a mostly-made-up way to judge linen quality) and instead choose a visual look and texture you love, from companies you trust. In other words, don't buy a "linen blend" duvet at a big box store and expect the quality look and feel of a real linen duvet. You'll be happier and use your purchase longer if you invest in the piece you'll love in your bedroom from the beginning.
Comforters, duvets, and bedspreads are the easiest way to show your style. Celebrate your ownership of the master bedroom by splurging here.
Headboards and Bed frames are one place it's typically easy to get the "wow" without the luxury price tag. In the first home I owned back in Missouri, my bed frame was the first item for the house that I purchased, and I created my bedroom around the delicate embossed metal style (a vintage bed identical to the one that showed up on the set of True Blood in the bedroom of southern belle Sookie). When I set up my studio apartment in Seattle, it took longer to find the perfect piece, but after a few weeks of scanning craigslist, someone posted an ornate wooden bed for $125. After a bath in cat odor neutralizer (yikes!) and a few coats of vibrant blue paint, I had my dramatic statement bed for my new bedroom.
before I found the perfect bedding, I located this headboard and footboard and jumped!
Create Drama with Draped Fabric or Tapestries
One of the cheapest and easiest ways to create high drama in a bedroom is with fabric. Fabric can also help with design challenges- like a window placed on a wall where you'd like to position your headboard. (Use my tutorial on how to hide a window behind a bed for tips on dealing with that challenge.)
Floor to ceiling curtains work especially well with high ceilings, but this white on white version, created for a friend's Air BnB Suite, was elegantly done in an old ranch house with standard height ceilings in the foothills of the Ozark Mountains.
Tapestries as wall decor are growing in popularity, and with their increase in popularity, their availability is also growing. You can choose from many designs, in this image you can see how tapestries can work to transform a wall from drab to dynamic in minutes. This works great in a bedroom if you find your style frequently changing. Hanging tapestries with bulldog clamps is trendy and means changing tapestries is quick and easy.