Birthday parties at home have always been common and they have become more so, after the Coronavirus pandemic. Listed in this article are some simple DIY birthday decoration ideas.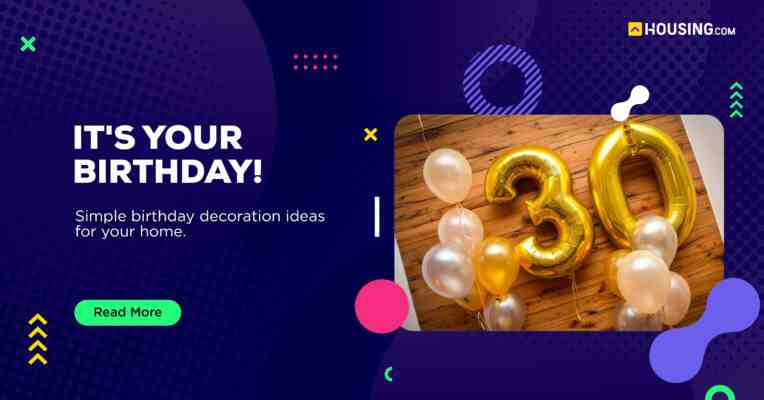 Birthday decoration at home: Essentials needed
To go about birthday party decorations at home, one needs to buy a few essentials keeping in mind the birthday decoration theme, home décor, space available, birthday person's age, budget, etc. Today, one can either buy these birthday decoration items online and get them delivered at home or source it from local stores that sell fancy decoration accessories. If one is creatively inclined, one can make some colourful birthday party decorations at home, too. You need balloons, confetti, foil curtains, banners, streamers, pom-poms, posters cut-outs, ready-made photo booths as per the theme, honeycomb paper balls, bunting's lights, party hats, lights, flowers, etc. for simple decoration for birthday party at home.
Birthday decoration ideas at home with a 'happy birthday' banner
Birthday decoration simple or elaborate need birthday banners that are a crucial element and focal point of birthday decoration at home. Banners for birthday decoration at home are available in a variety of materials, from paper to fabric and in myriad shapes and sizes. Today, as part of party decoration ideas one gets small or big banners with various cartoon characters for kids, in multi-colour, double colour or even battery-operated LED string lights. Birthday banners as part of birthday decoration in home should be hung above the entrance or on the wall behind the food table, for it to be noticed.
Birthday decoration at home with balloons
Balloons are synonymous with birthday decorations at home and they come in plenty of colours, size, shapes (heart, letters, star, elongated, etc.) and materials (latex and foil). So, how to make balloon decoration for birthday party at home? There are air-filled balloons, helium-filled balloons, LED inside glow balloons and glitter balloons that one can make use of for simple birthday decoration at home with balloons. There are specially printed balloons, self-inflated metallic foil balloons or self-standing cartoon character balloons, too. As part of birthday decoration ideas at home with balloons, one can opt for a single or dual-coloured balloon for wall decoration, or use the balloons to make an arch, column walkway, etc., for children's parties and go in for bright colours with balloons that feature TV or movie themes. For adults, limit balloon colours to two for a cohesive and elegant feel. Balloon decoration images for birthday include the one shown below.
See also: Griha Pravesh invitation card design ideas for you
Birthday decoration home using balloons: New trends
Foil balloons are the latest trend when it comes to using balloons for decorations. These shiny balloons add to the aesthetics of happy birthday decoration ideas. Metallic number ballons related to the age of the birthday person are a must for decoration at home. The balloon mosaic number has become the latest trend to decorate at birthday parties, Combining two or three colours of balloons is trending in parties at home. Some of the balloons colours that go well are pink and white, silver and gold together, blue and pink, blue gold and white and also silver blue and purple. Heart balloon backdrops are also popular for birthday decorations. Polka dots, hearts, quotes ( happy birthday)florals and geometric designs on balloons are being coordinated perfectly with the chosen theme of the party as part of the birthday decoration design.
Wall decoration ideas for birthday party at home
Walls attract the immediate attention of guests in any house and must be considered by while planning home decoration ideas for birthday. Design a wall with balloons in a place where there's space for it to double up as a photo backdrop as part of birthday wall decoration ideas at home. Besides balloons, walls can be decked up in many ways. One of the birthday ideas at home that can be followed is to decorate wall with paper flowers or a huge collage made from photographs or create garlands out of these photographs and hang them with strings of fairy lights. One of the birthday wall decoration ideas is to jazz up the wall with crystal curtains. Use the Washi tape for birthday decoration at home wall to turn up a plain wall into a colourful design. Hang stripes of glitter finish on the wall in contrasting colours such as gold and white for a simple decoration for birthday party.
Birthday decoration at home using streamers
Birthday party decoration ideas at home can include use of streamers. Party streamers can be draped in different styles for elegant yet simple birthday decoration at home. Regardless of the way you choose, it will make a big impact and elevate the home décor. Paper streamers or glitter streamers are top choices to add a party vibe to home décor. Opt for block colours to suit the party colour scheme, or go in for a variety of complementary shades for decoration at home. Streamers of paper or glitter can be used on ceilings, walls and windows as part of birthday house decoration.
See also: Easy DIY room décor ideas for your house
Birthday decoration ideas using tissue pom-pom
Pom-poms of tissue paper add a celebratory colourful punch in decoration for birthday party at home. As part of birthday party decoration ideas at home, spruce up your space with a garland that can be hung from a wall, window, mantle, bookshelf, railings of a staircase, or even dessert tables. Alternate the colours of delicate round pom-poms for extra zing.
Lighting for birthday decoration at home
Best birthday decoration ideas involve use of lights. Attractive party lights not only heighten the overall atmosphere but also set the mood. From savvy lantern fairy lights to smart mood lights, there are many options, when it comes to using lights as birthday decorations ideas. One can hang lanterns on the corner of the wall or keep them on the table as they make up for simple birthday decorations. Fairy lights, the small white or multi-coloured light strings can be used artistically to add a glowing touch to your party décor. Glittering fairy lights can be draped around curtains or balconies, plants, or simply weave strands of lights throughout the floral centrepieces.
Floral birthday decoration ideas at home
You can also do birthday decorations without balloons by using flowers. Fresh flowers instantly cheer up the room with their enchanting textures and vibrant colours. Adding fresh flowers and greenery to the party room gives an organic and green touch for all to admire. When it comes to flower walls or booths or centerpieces, there is plenty of choice of colours and flowers and also green foliage. You can opt for single shades or mix the flowers with funky accessories, for attractive birthday decoration at home. For traditional themes opt for marigold, tuberose, mogra, etc.
Birthday table decoration at home
Birthday table decoration at home is important because the place where the cake will be kept must be aptly dressed up. Place it either in the centre of the room or standing against a wall. Instead of setting all desserts flat on the table, try to add different rows and levels to your dessert table with cake stands in varying heights, also arrange a beautiful buffet table. Go in for tiered platters for salads, cookies and mithais for a simple birthday table decoration at home. Opt for a subtle coloured table cloth that does not overpower the crockery or theme-based table cloth. Sparkling dinnerware and coloured glassware are perfect for birthday decoration at home. Do not forget to add coloured ice cubes, fancy straws, edible flowers or carved fruits that can add a wow factor to the table décor.
Birthday decoration ideas for virtual party
Decorations for birthday at home for a virtual birthday party can include the background picture according to the theme. Keep in mind the position of the laptop or phone. Place the camera at face level, on a flat surface, like a table or desk. Try holding it up against a small object like a book or candle to cover the maximum room view. You can plan some virtual games with family and friends, to make it a memorable and fun-filled occasion.
See also: Tips to design your kids' room
Birthday decoration themes
Depending on the age of the person, one can select theme birthday decoration ideas right from Barbie, Chhota Bheem, unicorn, Marvel characters, Minions, retro, Bollywood, Arabian Nights, masquerade, Harry Potter, Game of Thrones, etc. Themes can also be as simple as colour coding two or three décor items. The age of the birthday person can also become a theme, so that the birthday decoration at home can be done around this number. Once the theme is planned, select the decoration material, lights, etc., accordingly to blend with room decoration ideas for birthday that you have thought of. Ensure that the cake and other desserts are designed based on the theme. Birthday decoration images at home like the one below can be used for inspiration.
Decoration ideas for birthday for girls
When decorating the home for a birthday party for a girl, one need not opt only for pink balloons and décor items. There are other colours in trend such as purple, peach, lavender, silver, gold etc for birthday decoration. One can select themes such as Unicorn, Mermaid, Frozen, etc. For a teenage girl, go for a glow themed party with glowing balloons, neon decorations, glowing table layouts. Other themes for decoration for birthday at home can be spa theme, Instagram theme, dance and Karaoke, murder mystery, space theme depending on the girl's interest.
Decoration ideas for birthday for boys
For a young boy, opt for the usual balloon decorations but if it's a teenager's party, deck up the home with a birthday banner, lit-up letters and paper lanterns to create the party ambience. For older teen boys, stick to a monochromatic colour palette as not everyone is fond of bright colours. Design a curtain for the party room's doorway with streamers. Involve the birthday boy in home decoration with DIY ideas. Think of a creative food presentation with goblets, jars, wicker baskets and fancy crockery. Boys birthday party home decoration can be done on various themes such as cricket, Superhero, Minecraft etc. To keep the young guests busy, plan an activity-based theme party. Arrange for watercolour paint, paper, pens, glitter, craft tools etc. If one has space at home, then plan a stargazing party theme with a telescope or baking and mocktail sessions. Today one can hire professionals for a home-based party on exciting themes of chemistry, astronomy or physics.
Birthday decoration at home: A grand entrance
Illuminate the home's entrance in style and deck it up according to the specific theme. Set the tone of the party from the entrance itself. The main door/entrance is visible first when a guest visits the house. It sets the expectation for the decoration of the house. It should not be too loud; it should be subtle without obstructing the movement at the door. Keep a couple of tall vases with flowers on both sides of the door or outline the door with flowers and streamers.
Birthday decoration ideas for adults
An adult birthday party at home is all about hanging out with friends and celebrating the birthday. It's time everyone can relax, enjoy some drinks, play games, and have a great conversation. One can plan a cheese wine party, Karaoke evening, barbeque party, card poker party or spa party (arrange for professionals for a foot massage at home) or arrange for some mocktail class session at home.
Besides balloons use fresh flowers and candles to decorate the house. Birthday table decoration ideas for adults can include user of stylish dinnerware sets that go with the colours of the decorations such as balloons or streamers to match. Colourful elements such as napkins or table linen may also be used to add texture, colour and contribute to the theme and overall décor.
Romantic birthday decoration ideas for spouse
As part of simple birthday decoration ideas, one can decorate the home for the husband or wife's birthday. To add to the romantic and birthday feel besides the living room, one can even decorate the bedroom with heart-shaped red balloons. Other birthday room decoration ideas include designing a gold heart-shaped balloon arch for the wall, use of aromatic candles and colour coordinating these candles with the balloons. If the bedroom is spacious, spread the petals of red rose flowers on the floor. Or use the flowers for decorating the corners of the room or go in for a heart-shaped floral bouquet. Birthday room decoration ideas at home include displaying the pictures of memories in a heart-warming way. Go down memory lane by pasting on the various balloons the pictures of your spouse or yours together neatly and hang them.
Eco-friendly birthday decoration ideas for your home
Opt for a nature-themed party and have simple birthday decoration ideas at home. Use fabric banners, colorful paper decorations, pinwheels or memorable photos of the birthday person, origami flowers made from recycled paper or with paper quilling art, to deck up the walls. Use biodegradable elements like fresh flowers, leaves, bamboo, jute, cane and coloured strings, as party decoration ideas for birthday. Avoid decorations using balloons as they impact the environment. Opt for non-toxic and biodegradable plates, cups and utensils from renewable or recycled materials. For lighting, use energy-conserving LED lights. For a child's birthday, give sustainable return gifts such as reusable mugs, eco-friendly stationery, bags, bird houses, gardening kits, small potted plants or wooden toys and puzzles in reusable bags. On the day of the party, have separate marked bins for biodegradable food waste and dry, paper and plastic waste.
Simple birthday decoration ideas at home: Tips to follow
To prepare the house for a birthday party, clean the home thoroughly.
Try and rearrange the furniture to ensure that guests can move freely.
Plants and flowers add life to any party. Bring outdoor potted plants inside or arrange some fresh-cut blooms all around the house.
When decking up the home for a party, remember that height is an important factor in decorating. The decorations should be at a level that meets the eye easily.
Drape sheer colourful dupattas or curtains along with fairy lights all around the house to add an extra sparkle to the décor.
Select a corner in the living room and brighten it up with lights, glittering streams, flowers, or satin ribbons for a photo booth, which is Insta-worthy.
Transform your balcony and patio for the party with proper lights, seating and few stools to keep the drinks and food.
For children's safety ensure that candles are well covered and kept at a safe height. Also, be careful with deflated balloons and cupcake toppers, as these are choking hazards for little ones.
Ensure everything is spotlessly clean in the bathroom; keep soft napkins, fragrant reed diffuser or air freshener and a bunch of fresh flowers.
Keep a bright coloured trash can and recycle bins visible, so that it is easier for guests to spot and discard waste.
After the party, remove and store any decoration items that you are likely to reuse and get rid of the rest.
Do not throw the leftover food. Donate it to an NGO.
Home birthday party games and dance area decoration
Create and decorate multiple areas for the party at home apart from seating, cake cutting and dining area. Move the sofas up to the wall so that guests can use the floor space for dancing. If you have the space, then use streamers and simple balloon decoration at home for birthday for decorating the dance area. Opt for colourful lighting to make the area more suitable, along with a few disco balls. Select the party music in advance. For the fun, creative indoor games and activities, plan games like housie, dumb charades, board games, treasure hunt, passing the parcel, etc. Depending on the space and number of guests, choose the appropriate games to entertain them. Consider the average age of children attending the party. Have games that are easier to play for most of the guests than difficult games that only a few kids would enjoy.
Birthday party at home food ideas
Food is one of the most important aspects of a birthday party. After the taste, the key to delighting's lies in a menu that is the perfect balance of traditional and trendy. The menu has to be diverse and should cater to palates ranging from a child to senior citizens. Not just the food on the tables hold be presentable but the complete food section should be decked up and inviting. It must be attractive and should be consistent with the theme of the birthday party. Plan delicacies ranging from appetizers, main course, desserts, beverages etc. Serve hot starters in baby size like paneer tikkas, dhoklas and tikkas wrapped in a green leaf, pav bhaji in a small bite-sized pav with bhaji stuffed inside so it is not all messy to eat. For Kids party keep simple food such as pizza, nachos and small-sized sandwiches and avoid glass dinnerware. Use a subtle colour table cloth that does not overpower the crockery.
FAQs
How to tape decorations without damaging the wall? Opt for poster tape that is double sided tape as it will not leave a mark. Also, gaffer tapes (resembling bandages) work well. One can go in for a variety of adhesive hooks that do not damage the wall. The longer tapes stay on the wall, the more are the chances of leaving a mark. So, if you intend to hang things on the wall with tape, do so a couple of hours before the party time.
What are the advantages of foil balloons? Standard latex balloons last for eight to 10 hours after inflation, unlike foil balloons which can last for four to five days. Foil balloons come in a huge range of shapes including hearts, giant letters, numbers and stars but are expensive.
What can I put inside the balloons to be popped at the end of the kid's birthday party? Stuff the birthday party balloons with lollipops, candies, chocolates, erasers, sharpeners, fancy hair clips, tiny teddy bears, etc.