View Slideshow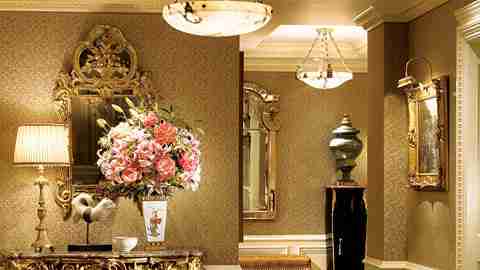 Designers Illya Hendrix and Thomas Allardyce get to Paris as often as they can—to shop for clients, to visit friends and sources or simply to relax and enjoy themselves. "We've been fortunate enough to spend time in some of the most beautiful spaces in the city," says Allardyce. "I can't tell you how great an effect it's had on us to see how people there live—really live—with their antiques."
It's a lesson he and Hendrix must inculcate in some clients, who may adore all of their new chairs, tables, sofas, rugs and beds without being fully certain that they're allowed to use them. Yes, the designers assure them: Go ahead, it's perfectly fine to sit on that 18th-century fauteuil we've brought back for you, or to toss the day's mail atop that Régence ormolu-mounted and brass-inlaid commode. That's what they're there for, after all.
In keeping with Neoclassicism's fundamental tenet of harmony, no one piece is supposed to shine above the others.
But it wasn't the case with a pair of clients from Chicago, a couple who cite Paris as one of their favorite cities in the world, and whose art collection, dominated by Impressionist works (including paintings by Renoir and Monet), bespeaks a natural affinity for the genteel emblems of pre-20th-century Europe. Seeking a little more space than their Gold Coast apartment afforded, they looked at modern buildings, which might have allowed them to live in a sleek penthouse with breathtaking lake views. But these old souls "loved the fact that their current building was historic," says Allardyce, "and also that they were on a lower floor—so that when they looked out their windows, they saw foliage. When the apartment next door came up for sale, they grabbed it."
And so was born an ambitious project in which the Los Angeles designers, working with Palm Springs-based architect Thomas Jakway, turned two apartments into one, reconfiguring the newly acquired space and making it into a master suite encompassing a bedroom, a sitting room, dressing rooms, a bath and a gym. At the same time, Hendrix and Allardyce added interior details—wallcoverings, panels, moldings and carved plaster reliefs—to help form what Allardyce calls a Neoclassical vocabulary. "Neoclassicism is not actually one distinct style," he says. "It's an approach that reinterprets the classical architecture of ancient Greece and Rome, with a special emphasis on symmetry and restraint."
Once this all-important vocabulary had been developed, it was time to start speaking in fluent, elegant sentences. To impart a noble character, Hendrix and Allardyce brought in scores of European furnishings from the 17th, 18th and 19th centuries. In keeping with Neoclassicism's fundamental tenet of harmony, no one piece is supposed to shine above the others; all have been chosen, regardless of their provenance, for their ability to work together and create a balanced whole.
The tone of restrained European grandeur is set in the entrance hall, a relatively small space that nevertheless manages to house two large giltwood mirrors from the 18th century, a circa 1790 Italian painted and parcel-gilt armchair, a Louis XVI giltwood bench and a pair of 19th-century French black-lacquered, bronze-doré-mounted cabinets, among other pieces. More giltwood furnishings—including a 17th-century octagonal Spanish mirror and a Louis XVI canapé—are to be found in the living room, along with many other pieces from Italy, France and Sweden. In the dining room—where wallcoverings and other fabrics cast a warm, golden glow, as they do in all these rooms—a 19th-century, Louis XIV-style repoussé mirror hangs above a painted and marble-topped sideboard.
If there's one thing their Parisian travels have taught Hendrix and Allardyce, says the latter, it's that people can, and do, live casually with fine things. They really do sit on those 18th-century chairs—they're not just museum pieces. In an apartment that rivals a small shop on the Carré des Antiquaires for its thoughtful selection of European antiques, it probably can't be stressed enough; as it happens, these clients can't help but interact with decorative history throughout their normal day. "That lesson underlies all of our work," he says. "Everything we select is chosen not just for beauty but for comfort."