Any coastal city is familiar with the pros and cons of the cruise industry: While there are certainly economic benefits, the necessary infrastructure makes the waterfront inaccessible to residents. But Istanbul's Galataport, an area on the Bosphorus that contains several historic sites as well as an active cruise terminal, will soon be revitalized and returned to the public. Design practice Studio Dror and architectural firm Gensler have unveiled their masterplan to transform the three-quarters of a mile (1.2 km) long waterfront district into a vibrant and bustling part of the city.
The plan opens up the coastline through the creation of an inventive subterranean cruise terminal. A hydraulic gangway system, developed with Miami firm BEA, is hidden beneath a boardwalk, which opens when a ship docks and creates a passage from the vessel to the underground terminal. The system takes up an 11-and-a-half foot wide segment of land, and is only active when a ship is docked, thereby opening nearly 650,000 square feet for the public. "One of the most valuable elements of this development is the world's first hydraulic boardwalk and gangway system," says Dror Benshetrit, founder and principal of Studio Dror. "Without this system, which is truly an industrial design innovation, this masterplan would not be possible; this access to the sea would likely not be possible."
The surrounding area will become a pedestrian neighborhood with a range of mixed-use buildings. "The project continues the Galata waterfront and offers new public spaces in form of a waterfront promenade and plaza, a network of intimate pedestrian streets, and a large extension of the historic Tophane Pavilion and Nusretiye Tower," says Oliver Schaper, a senior associate at Gensler. The area's buildings, which were not designed by the firms, will be kept small in scale and outfitted with roof terraces to optimize the water views.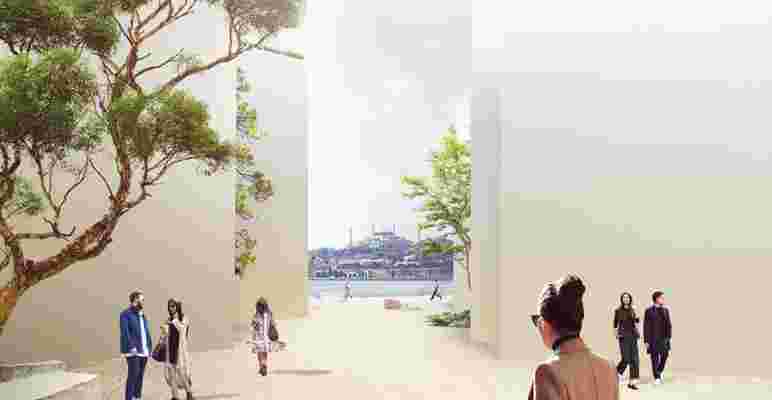 The pedestrian neighborhood has views of Istanbul's Old City.
The project is currently under construction, with completion scheduled for 2018, meaning it won't be long before passengers and locals are able to enjoy this area of the Bosphorus.