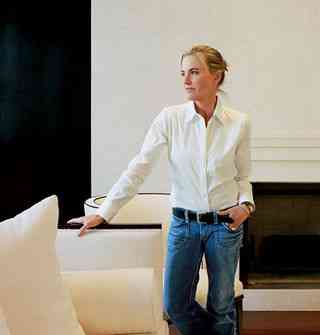 dam-images-architects-2007-05-post-arsl02_post.jpg
Starting with an empty shell, Post worked closely with the clients—a couple with three children—to give the residence a loftlike feel.
dam-images-architects-2007-05-post-arsl03_post.jpg
An opening in the upstairs family room allows light to filter into the dining area. The photographs, by Andrew Moore, are from his 2000-2004 Russia series. Kravet Ultrasuede on dining chairs.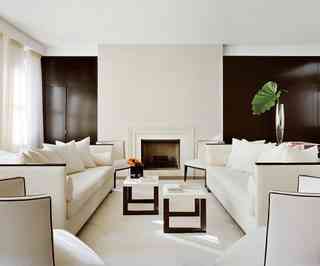 dam-images-architects-2007-05-post-arsl01_post.jpg
Interior designer Jennifer Post maximized drama in a Minimalist Tribeca penthouse by using strong contrasts, rich materials and abundant natural light.
The limestone fireplace and ebonized-white-oak cabinetry establish the palette that prevails in the living/dining room, as throughout. Rug from Odegard.
dam-images-architects-2007-05-post-arsl06_post.jpg
The family room—"the evening hub and entertainment area," says Post—leads out to a walled private terrace. As with the other public rooms, comments the wife, "I was very adamant that we not have draperies because of the openness and the clean lines." Shades, hidden in the soffits, can be controlled electronically.
dam-images-architects-2007-05-post-arsl07_post.jpg
When the couple did use draperies—as in the master bedroom on the upper level—they chose ones that were "very sheer, flowing, natural," the wife explains. The large photograph is by Sebastião Salgado. The writing desk is early-20th-century French. Profiles bed covered in Kravet Ultrasuede. Armani Casa bed linens, duvet and throw. Rug from Odegard.
dam-images-architects-2007-05-post-arsl04_post.jpg
The kitchen, walled from the dining area but open to the hallway, "is not open by typical New York loft standards," says architect Steven Learner, who worked with Post on the strucure of the interior, "but it gets a ton of light." Bulthaup cabinets.
dam-images-architects-2007-05-post-arsl05_post.jpg
A double-height gallery "accentuates the architecture of the space," says Post, who, with Learner, designed a floating staircase of ebonized white oak, glass and limestone. The hall beneath is wide "so the kids can run up and down and lay out the toys," says the husband.