In the ever-evolving world of modern work, having a versatile and ergonomic workspace is paramount. L-shaped desks have become increasingly popular due to their ability to maximize space and provide ample room for productivity. In 2023, the demand for adjustable L-shaped desks is on the rise, offering users the flexibility to tailor their workspace to their needs. Here, we present the five best adjustable L-shaped desks in 2023 that are set to redefine your workspace.
1. FlexiSpot E1L
The FlexiSpot adjustable desk l shape E1L tops our list as the most versatile and ergonomic choice. Crafted with a chipboard desktop, this desk offers a spacious and robust work surface. What sets it apart is its adjustability, with a height range from 27.9" to 47.2" and a width range from 53.0" to 74.8". It ensures that your desk can adapt to various room sizes and layouts, making it perfect for both home offices and traditional workplaces.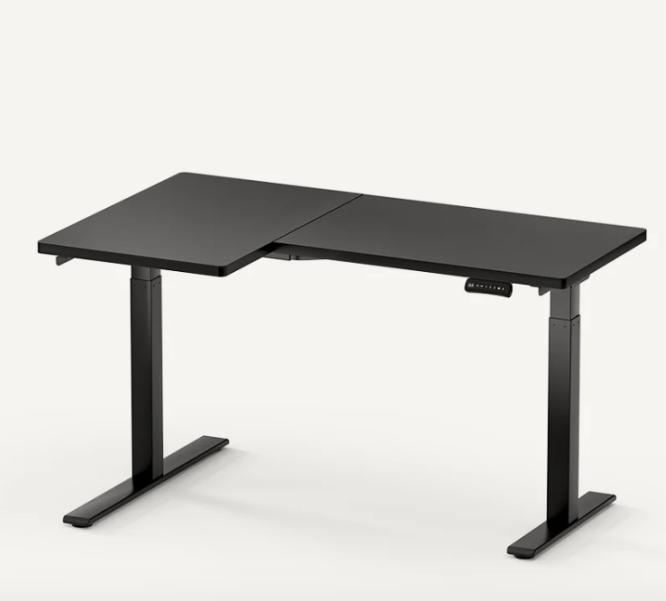 The advanced keypad enhances functionality with features like a sit-stand reminder and an anti-collision system. The sit-stand reminder encourages healthy posture changes throughout your workday, while the anti-collision system prioritizes safety by stopping the desk if it encounters an obstacle.
2. Fezibo Triple Motor desk
Fezibo triple motor l-shaped standing is a strong contender in 2023. The standout feature of the Fezibo Triple Motor Desk is its triple-drive system. Unlike traditional sit-stand desks with single or dual motors, this desk employs three motors that work in unison. This triple drive ensures a remarkably stable and smooth transition between sitting and standing positions. Whether you're switching between tasks or fine-tuning your desk height, the Fezibo Triple Motor Desk does it with remarkable ease.
3. Autonomous Smart Desk Cornor
Autonomous SmartDesk Cornor enters the competition with an adjustable L-shaped desk that focuses on minimalistic design and functionality.The SmartDesk Corner features a solid steel frame, providing unparalleled stability and durability. It's built to withstand the demands of your busy workday. And it is equipped with a whisper-quiet triple motor system, ensuring that height adjustments are smooth and virtually noiseless. Say goodbye to disruptive distractions in your workspace.
4. UPLIFT V2
UPLIFT V2 Curved Corner Standing Desk is designed with aesthetics in mind. This desk is designed to provide you with more room to work, store, and create. It maximizes your workspace within a smaller footprint, making it an excellent choice for those looking to make the most of their corner space. The UPLIFT V2 Curved Corner Standing Desk boasts the same innovative 3-leg frame design as its renowned 2-leg counterpart. This frame design earned the title of "Best Standing Desk" overall in Wirecutter's comprehensive review, showcasing its industry-leading quality and performance.
Conclusion
In conclusion, 2023 brings a range of exceptional adjustable L-shaped desks that promise to transform your workspace. Whether you prioritize versatility, aesthetics, or affordability, there's an option for you. These desks combine spacious and durable designs with advanced features like sit-stand reminders and anti-collision systems, ensuring a seamless and ergonomic work experience. Say goodbye to the limitations of traditional desks and embrace the future of adjustable L-shaped workspaces in 2023. Your ideal workspace awaits.