Sometimes the situation arrives where one has to live in small quarters with or without our will but what we can do is make our cramped quarter liveable by strategic styling and creative organization. Small bedroom decor may not be able to make your room spacious but it has the capability to make your small bedroom interior look much more stylish and homey. And anyways couples bedroom design requires some personal touch. Bedrooms are a very important part of our home thus designing is compulsory. If in need of some help in designing your bedroom then here are some ideas from which you may seek help from.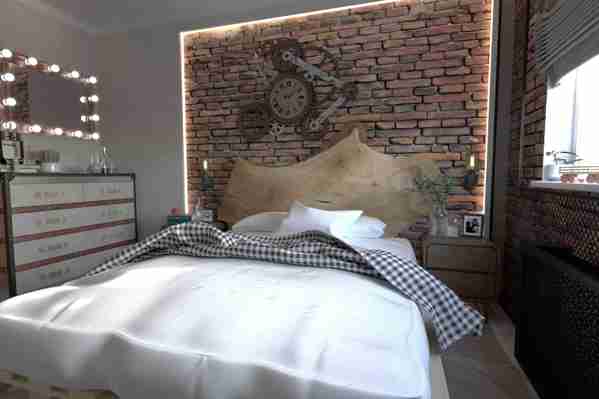 source:
source:
While designing your bedroom the first very important thing which you must not overlook – is your precious bed! Mostly we feature bed by centering it on the wall but looking over the fact of your room limited space its better if you tuck your bed up against a wall or corner. This sleeping arrangement with an added mixture of comfy bed with the extra comfortable wall will make it more snug and cozy.
source:
source:
For small bedroom decor ideas white could be concluded to be the best color. These colors make it so that the room will not look too cramped up. Painting your bedroom with light shades will cover up the absence of spacious rooms and windows. Though to not make your room look cold and void of personality it's better if you layer your white patterned bedroom with different shades of bright color. The room will look more stunning once you include lights and chrome bedside lamp which will give a beautiful glow to your room.
source:
source:
If you are needed to renovate your room or are in the market with the wish to buy a new bed consider buying a bed with drawer underneath which will help you in better storage but if that's not the case than you can also use milk crates and woven basket to help store your needed items. This arrangement will make your room look more spacious and good to look at. If required you can also add curtains near the bed so no one will able to look at it.
source:
source: lumpenhund.info
It is not necessary to use only a light color in a small bedroom you can also use bold wallpapers to a focal wall. Bold wallpapers and colors do make look room small and cramped up but with the right technique and style, you just may able to handle the situation. While selecting your wallpaper to remember to choose a large scale pattern over a small busy one and coordinate your bedding with your wallpaper to make your room look beautiful.
source:
source:
Now it is not compulsory for you to stick with either bright or bold color you can also choose the third option which is the combo of both. In fact, this is a great way to decorate your bedroom as it gives a dramatic look. Confused as to what combination to choose then here are some you could take help from; black and white creates photographic vibe, pink and white is good for romance and are great for couple, Turquoise and white gives you a beach vibe and navy and white for nautical look, etc. there are many more combos which you can use.
source: designideas.pics
source:
Have you shaded your bedroom with white colors to make it look more bold and spacious? It is in need of some vibrant colors in your bedroom so that your room does not look cold and distant – add a colorful throw pillow with a patterned comforter. This planning will look at your room not only spacious and bold but also daring and stylish.
source:
source:
source: dobrzemieszkaj.pl
source:
You may also like to know about Unique Interior Design Ideas For Small Bedroom To Refresh Your Home
source:
To give your bedroom finishing touch loosen thing up by adding antique floor mirror, structural pendant light, and an eye-catching chandelier. This is a great way to give your room a focal point and to make it look more stylish. There are varieties of lights that are found for decoration like modern and sleek, flashy and glamorous and elegant and traditional so choose accordingly. By looking up to your bedroom design and color make your choice.
source: