As it becomes harder and harder for luxury penthouses to distinguish themselves in what has become a crowded competition for living space at the top of world capital cities, The Bryant, in New York, has provided a good example for doing just that. Designed by David Chipperfield , the London-based architect whose subtle imprimatur is behind landmark projects such as Turner Contemporary and The Neues Museum, this new residential project is something of a singularity. To begin with, it is Chipperfield's first residential tower, and, owing to the park's historic-landmark status, it will be the last new development on Bryant Park.
In an exclusive preview of the first penthouse to be available—move-in ready by summer 2017—Chipperfield spoke with AD about the project, pulling back the curtains on the three-bedroom, three-bathroom triplex that crowns the 32-story building.
From the outside, the penthouses are discernible. As Chipperfield explains, "in contrast to the framed Juliet balconies on the typical floors, the penthouse façade is set back, exposing the full size of the precast columns." By making this setback, he created outdoor space with sweeping views of Bryant Park and the surrounding skyline. "These columns create a double height colonnade and terrace spanning the full width of the penthouse level, emphasizing the building's crown," he says.
This skyborne triplex includes an entertaining level on the 32nd floor, a bedroom level on the 33rd floor, and a roof terrace, on the 34th. A private interior elevator connects the three levels. The Chipperfield-designed interiors include custom fumed-oak millwork cabinetry, radiant-heated flooring, sweeping views from three exposures—including views out from a hand-carved solid marble freestanding tub. The interior material palette softens the exterior, "adding," as Chipperfield explains, "warm hues to the interior while resonating with the concrete and terrazzo elements of the building."
At a time when so much of the skyline is become clad in glass, Chipperfield chose an alternate way, using terrazzo columns that are expressed on both the exterior and interior. Despite the very rarefied environment of this $16.3 Million penthouse, the columns make a visual connection between penthouse and the street, which, as Chipperfield puts it, "creates a strong link between the interiors and the building's presence in the city."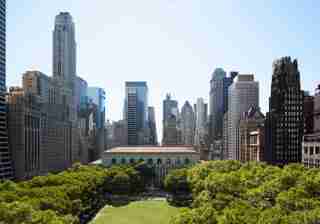 The Bryant is located in mid-town Manhattan, right in Bryant Park, which is next to the New York Public Library .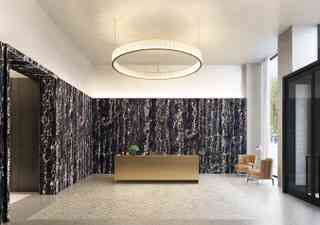 A rendering of the The Bryant's lobby.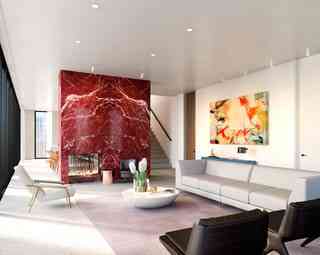 The penthouse kitchen is filled with natural light, and is positioned right next to the main dining area.
The kitchen is filled with natural light, and is positioned right next to the main dining area.
A view of the penthouse dining area at night with views north toward the Empire State Building.
The master bedroom in the penthouse includes a natural gas fire place.
The penthouse master bathroom.